The NFL playoff games have been anything but boring this year; we are so hyped up for what's to come on Super Bowl Sunday! Not to mention that it is happening in one of the world's most popular holiday spots – Miami, Florida!
Every year the NFL Super Bowl attracts crowds of hundreds of thousands, with some of the biggest celebrity faces among them. From NFL legends, A-list celebs, to James Beard Award-winning chefs, and even the US president, this is an event that has a week-long build-up for 4 hours of gameplay.
So if you're escaping the winter weather for a trip you won't ever forget, here are some of our suggestions to make the most of your time in the buzzing city.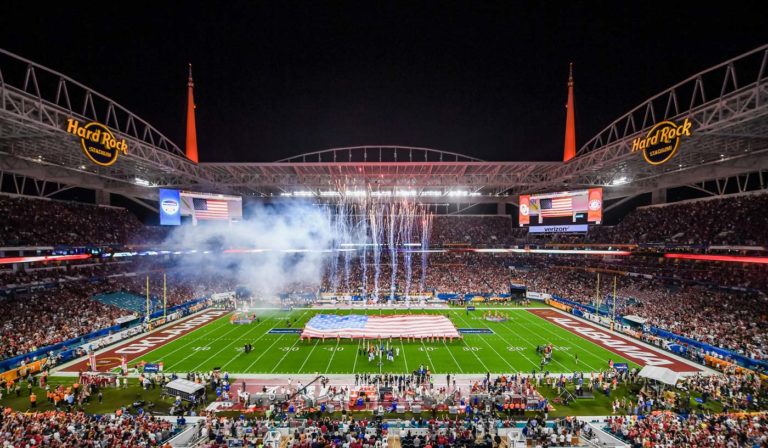 Exclusive Events organised for Super Bowl 2020
1. Opening Night
The Super Bowl kicks off with 'opening night' on Monday, January 27 at Marlins Park. This is the only time in the whole week that the AFC and NFL champs will be in the same location before meeting on the field for the Super Bowl. This is the perfect opportunity to get autographs, take pictures, and meet your favourite players.
2. Make time for Super Bowl LIVE
From Saturday, Jan 25 – Feb 1 at Bayfront Park you'll be able to find a week-long fan village featuring live outdoor concerts, parades, water sports, fireworks, and make sure to stop in Tailgate Town where world-renowned chefs can satisfy your taste buds.
3. Bud Light Super Bowl Music Fest
From January 20 – Feb 1 make your way to the American Airlines Arena where you can find a three-day party with performances from some huge artists, including DJ Khaled, Guns N' Roses, and Maroon 5. Tickets are still on sale for all three nights!
VIP Events
Shaq's Fun House – Jan 31, Mana Wynwood Convention Center
For the second year in a row, Shaquille O'Neal is celebrating the Super Bowl in his own special way. "Part music festival, part carnival, part circus, my Fun House blends superstar artists with a unique over the top interactive carnival experience," he said. Previous guests include Adam Levine, Jamie Foxx, Patrick Mahomes, and many more! Expect an open bar and amazing food, A-list crowd, carnival midway, superstar artists, all at an incredible venue!
Bootsy on the Water – Jan 31, On The Water at Virginia Key
This specially-constructed venue along the coast of Biscayne Bay will host a pop-up party where Post Malone headlines, and celebrity guests and VIPs will arrive by yacht to a private marina.
Leather & Laces – Jan 31, Soho Studios
Maybe one of the longest-running parties, this night party is back for the 17th year and is hosted by Lil Jon. Past hosts include everyone from Kim Kardashian to Jenny McCarthy.
Where to stay for Super Bowl 2020
There are a ton of Miami hotels that have organised packages with Super Bowl tickets. These are a good way to go because most of them will include game-day transportation and pre-game hospitality. Depending on your specific requirements, you can find the perfect one here.
Now is the time to build your experience – from the ultimate fan weekend to hospitality for your business needs. Flying private can take your Super Bowl tailgate party to a whole new level. The big annual game is among one of the most popular events for private jet travel because private jets can accommodate a pre-game experience that commercial airlines simply cannot.
Rev your engines, football fans—it's time to gas up for a flight to the Super Bowl. Request a quote now!