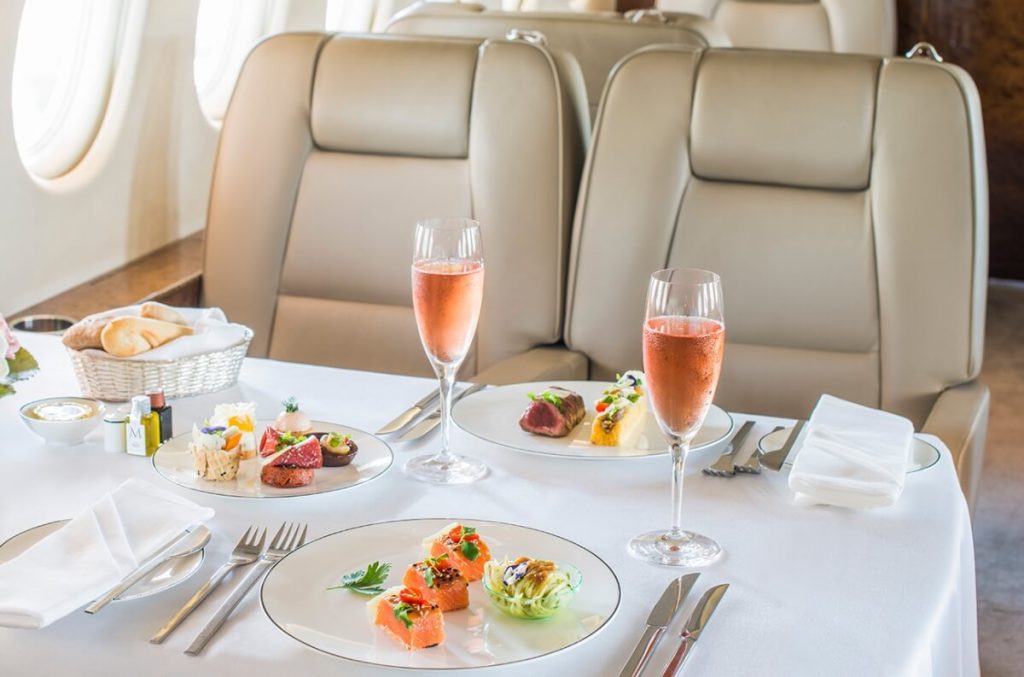 On our private jets, every tiny detail is tailored to make sure your flight experience is smooth and enjoyable, and food is no exception.
We can arrange food for whatever your heart desires. From snacks on short trips to having a full sit-down meal, catering on our private jets has endless options.
Is there a set menu or I can have anything I want?
You can have anything you want – but we are aware that some of our clients don't have time to think about their meal ahead of time. That's why most private jet menus include a wide variety of options to cater to all tastes including vegetarian and vegan menus and religious dietary requirements. Any option you decide to go for will be of high quality regardless.
You can even choose food from your favorite restaurant or caterer. If you crave simple takeaway food or a Michelin star dining experience, there is no limit in Private Jet Charter skies; anything is possible.
What about gluten-free meal options?
We can certainly provide gluten-free meals on board. We ask that you give your dietary restrictions and food allergies ahead of time. This will allow us to inform the crew and make sure you are taken care of.
Do I have to plan my meals in advance?
When you fly with Private Jet Charter, you get to pick your menu. However, we are aware that clients have busy schedules and sometimes don't get around to it, so most of our flights come with a variety of delicious food and drink options as standard.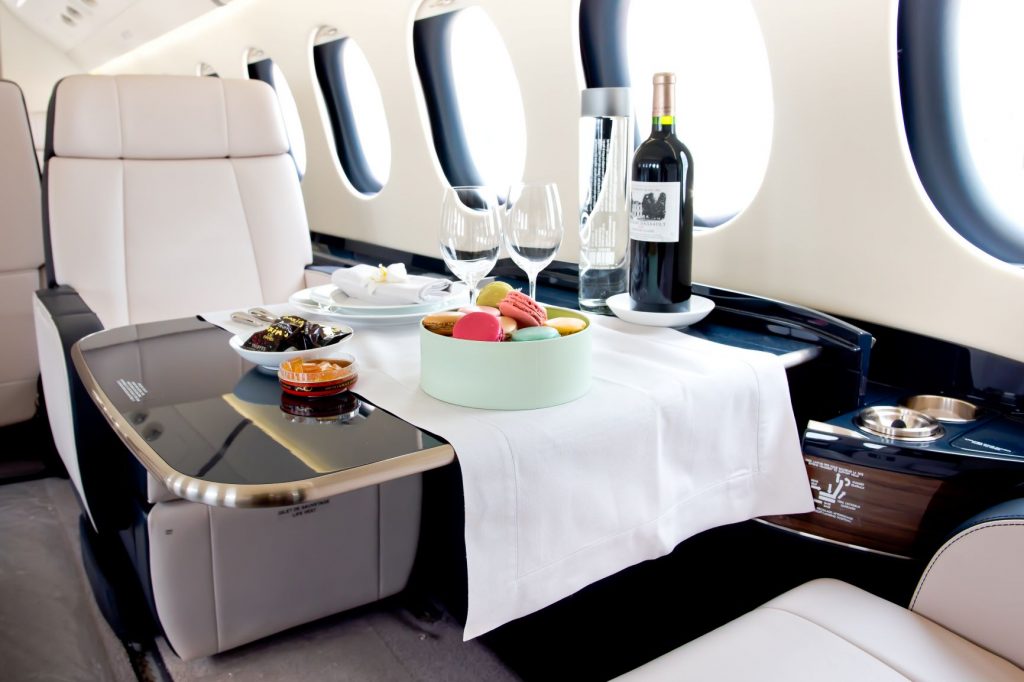 Do the food options vary depending on which aircraft I fly?
Meal options may change depending on the size of the kitchen in the aircraft. This mostly has to do with the quantity of food being able to be produced.
Short flights are more likely to offer small bites such as cold platters of fruit, meat, cheese, sushi, sandwiches, salads, and snacks. However, if you require a full meal on a short flight this can easily be arranged.
On larger jets and longer flights, you can expect small bites and a full meal, and the ability to cook homestyle meals for multiple guests.
What's the best food to eat on a flight?
That is completely up to you! However, we would recommend enjoying light and refreshing foods that aren't going to make you feel bloated such as dates, grapes, apples and other fruit. Travelling can take its toll on the body sometimes so the food you eat while in the air can help.
Flying for a special occasion?
No matter what your occasion is, such as an engagement or birthday, we can tailor your flight experience accordingly. From birthday cakes and champagne to decorating the cabin with flowers, our team knows how to make it an extra special experience.
Let us take care of your every need
We can provide the perfect aircraft to meet your requirements – from helicopters and light jets to ultra-long-range jets and VIP airliners.