London and New York Fashion Week Round-Up
Two of the main fashion events of the season, the New York Fashion Week and London Fashion Week, recently catwalked their way into the headlines with the likes of Victoria Beckham, Princess Anne, and of course some chic new styles! Before you head to Mayfair, let's see which designers should be on the top of your go-to fashion list. To sum up both events, there's been a lot of shine, a lot of volume, and a lot of colour.
Don't worry if you missed it, we've got the full brief here. Taking ourselves away from the rather stormy weather outside our windows, we decided to focus on trends we expect to see for Fall 2020.
New York Fashion Week Highlights
Brandon Maxwell – his entire collection in New York was created with a focus on sustainability. His designs are worn by amazing women like Michelle Obama, Lady Gaga and Oprah Winfrey. The collection varies from a chic white tailored jumpsuit, some classic black looks, to sleek form-fitting dresses, tailored dresses and overcoats, and much more in a palette mostly of black, white, grey, and beige. We see him use a lot of luxurious silk fabrics, the whole show radiating a sleek and sexy vibe.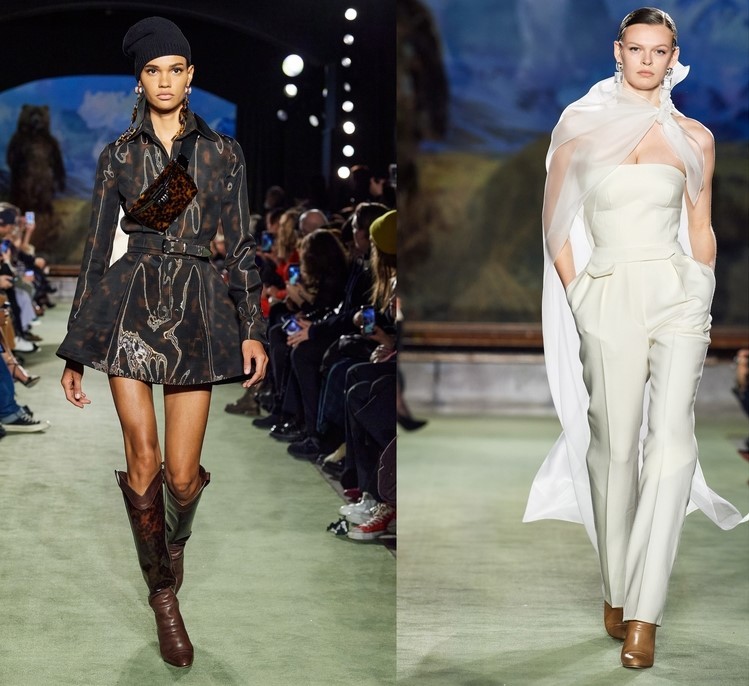 Carolina Herrera – a breath of fresh attitude. If you love to stand out and experiment with the supersize proportions of this collection line, it is worth your attention. Highlights of the fall collection include bold yellow and black fil coupe prints and oversized floral jacquard in orange and blue. With the combination of lavish colour with exuberant ruffles, each dress is built to empower their wearers. The line also features a more streamlined long-sleeve dress in ultramarine, providing that classic smart look. A go-to collection for elegance with ease or a chic look.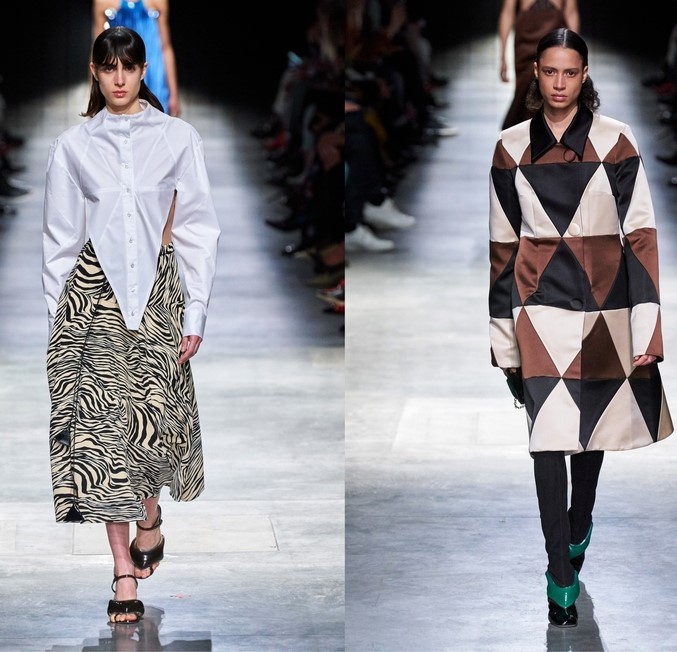 Badgley Mischka – captivating looks for women to look beautiful and feel powerful. A ready to wear collection from Mark Badgley and James Mischka presented a very English but with very different cultural moments in their collection line. They've used a wide range of colours and patterns, from painterly floral dresses, shiny metallic gowns, to their trademark selection of black gowns. The standout pieces were the least formal, in particular a camel-hued, butter-soft jacket-poncho belted at the waist.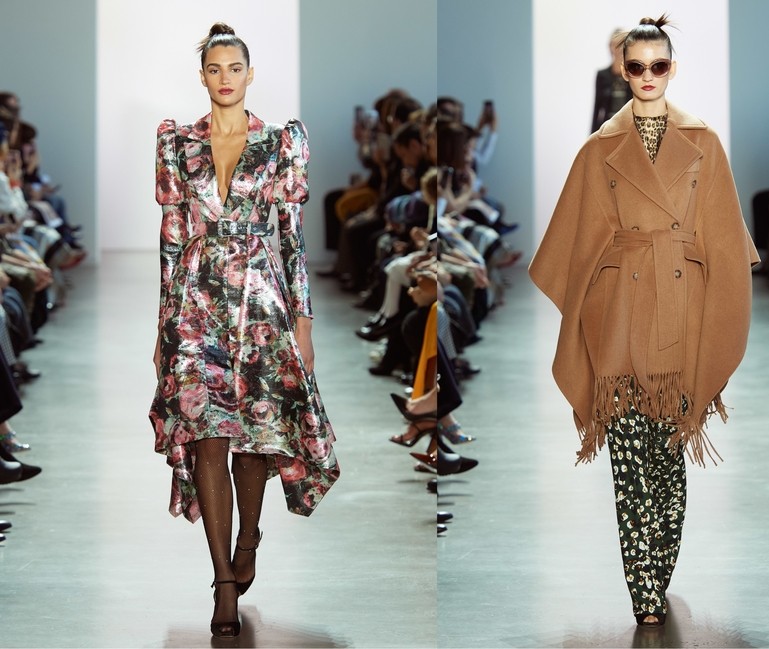 London Fashion Week Highlights
Erdem Moralıoğlu – his inspiration comes from the work of photographer, costume designer, and general snowflake personality Cecil Beaton this season. Moralıoğlu channelled a youthful sense of imagination with feather crowns and metallic cocktail gloves. The clothes themselves could have read as costumey, but never went overboard, balancing relaxed silhouettes with high-society sleeves and pearl embellishments.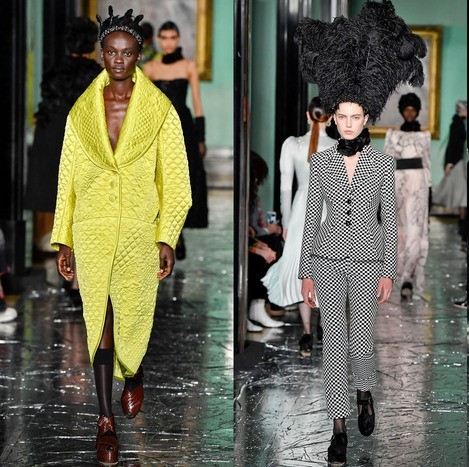 Christopher Kane – offered strong feminine looks and provoked a rebellious edge. He has become a household name in British fashion with his designs having been worn by everyone from Taylor Swift to FKA Twigs. This collection touched on the wide span of Kane signatures, which encompass white shirts with isosceles triangles of black patent inserts, animal prints, substantial duffle coats, and loads of oversized knitwear—plenty to buy and plenty to keep people staring at the oddness that lies within. Geometric satin patchworking on coats reminiscent of the '70s is another reminder that fashion trends come in full circles.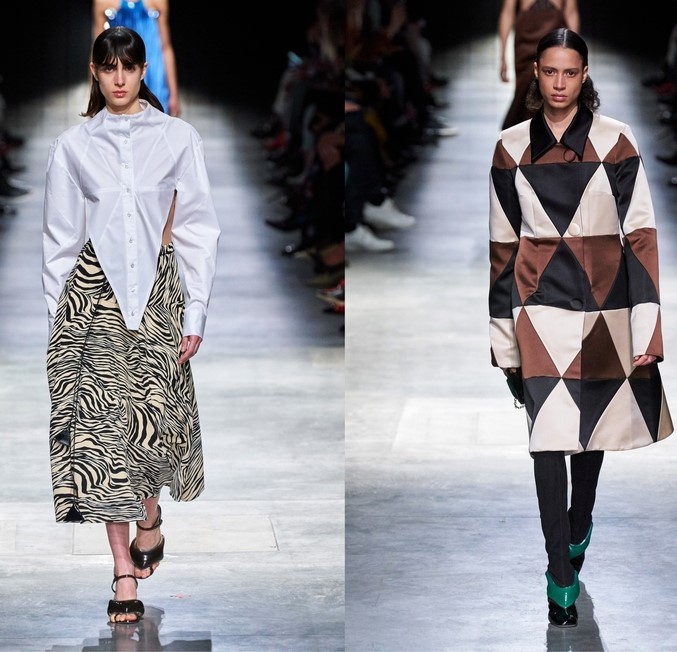 Roksanda – is a Serbian designer and in London fashion week Autumn 2020 collection presented her signature style of elegant gowns and contemporary looks. She is recognised as one of the leading designers in London. Her trademark comes with dramatic volumes, intelligent tailoring, and painterly colour sense. Roksanda represents influence through fashion, and ability to speak woman to woman through her clothing line.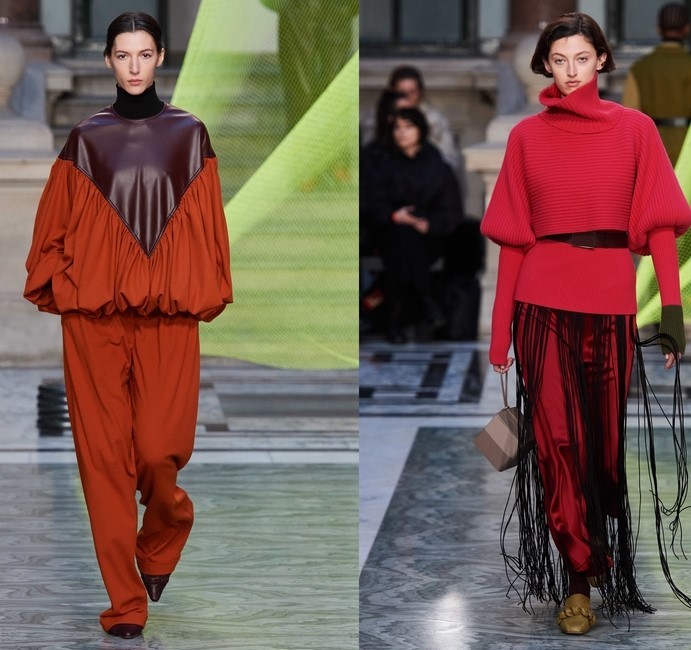 Have we given you enough inspiration? Start planning your next epic outfit now!
Calling all Executive Assistants & Personal Assistants – You could buy your new autumn designer outfit with points you earn from booking your boss's charter flights!
If you're booking charter flights for your boss frequently, our Diamond Rewards Club is just for you! Exclusive to EAs & PAs, this membership is free to join and allows you to earn points every time you book a charter flight with us. As your points stack up, you can exchange them for a whole host of exciting treats! Find out more.