Around this time of year, our flight teams are busy arranging itineraries for private jet and helicopter charters into airports serving the top ski resorts across Europe and the USA.
Flying into Courchevel airport is something we get asked about every year. Its prime location in the heart of the French Alps, touching distance from the slopes gives the impression that you could ski-in and ski-out. But as it is nestled into the mountainside, landing at Courchevel is very restricted for safety reasons due to its short runway that ends straight in the side of the mountains.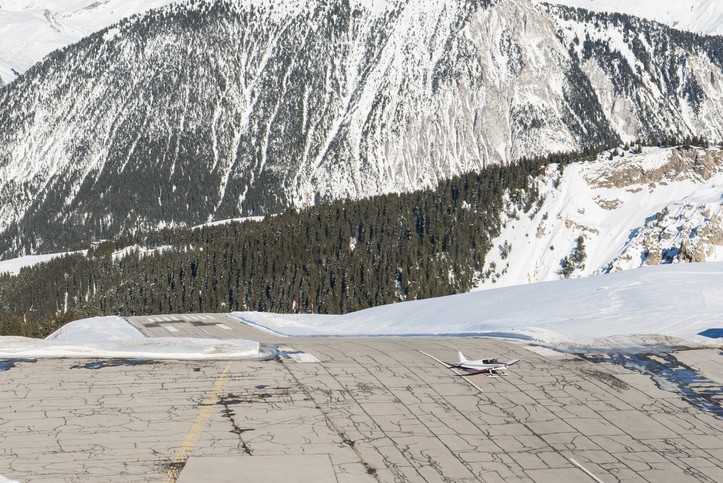 Courchevel facts:
Runway length: 547 metres (1,762 ft)
Altitude: 2,007 metres
18.66% maximum slope – highest in the world
6,000 flight turnarounds every winter
First mountain aerodrome to have an upslope runway
Only altiport to be kept clear of snow all year long
What Types of Aircraft Can Land at Courchevel Airport?
While there are heavy restrictions on flying into Courchevel airport, (known officially by its French name Courchevel Altiport), you will see a variety of small aircraft and helicopters landing and taking off. Heavy and large size jets can not land there due to its uphill gradient, steep approach, and the 'no go around' procedure. As the landing strip ends in the face of the mountain, this procedure simply isn't possible.
The 'go around' is a safety procedure that takes an aircraft away from the ground and into a safe and stable flight envelope (or environment). Most frequently happens when a plane needs to abort the landing.
The airport does see a few turboprops take off and land, however, smaller fixed-wing aircraft and helicopters are better able to access the airfield.
Can a Private Jet Charter Land at Courchevel Airport?
Private jet charter flights can land and take-off from Courchevel airport, as long as the aircraft meets the requirements and the pilot has the correct certification to use this dangerous runway.
Can a Helicopter Charter Land at Courchevel Airport?
Helicopter flights are the most frequent flights to and from Courchevel. Helicopters can easily land and take off from the airport. In fact, most clients will charter by private jet to a nearby airport; Chambery, Grenoble, Geneva, or Annecy, which all cater to commercially chartered private jets. From there they choose to book a helicopter transfer directly to Courchevel.
Landing at Courchevel Airport
As we mentioned above, private owners can use the runway for small and medium jet aircraft if they are flying themselves in their own aircraft. For those who are commercially chartering, there are more stringent safety regulations – which limits access to the runway.
For commercial private jet charter, the minimum stopping distance for the aircraft is multiplied by 1.6, to create the minimum landing distance required (LDR). Which makes Courchevel's runway too short for most commercial private flights.
Private Jet and Helicopter Charters to Courchevel
We recommend clients charter a private jet into a nearby airport, such as Chambery Airport, and then book a helicopter transfer direct to Courchevel for the final approach. Request a quote today for your specific requirements.