Happy New Year! Entering a new decade is a great milestone to set business aviation trends, and a great time to reflect on the ones just passed. The last ten years have seen undeniable changes in aviation. From more efficient carbon emissions and new aircraft to use of social media in customer relationship building.
Another highlight is the development of drone technology that brought new possibilities but also raised serious issues in terms of airport security and airspace safety. With travel becoming more affordable, the air industry has continued to grow throughout the decade, while listening to sustainability trends and innovating in that direction.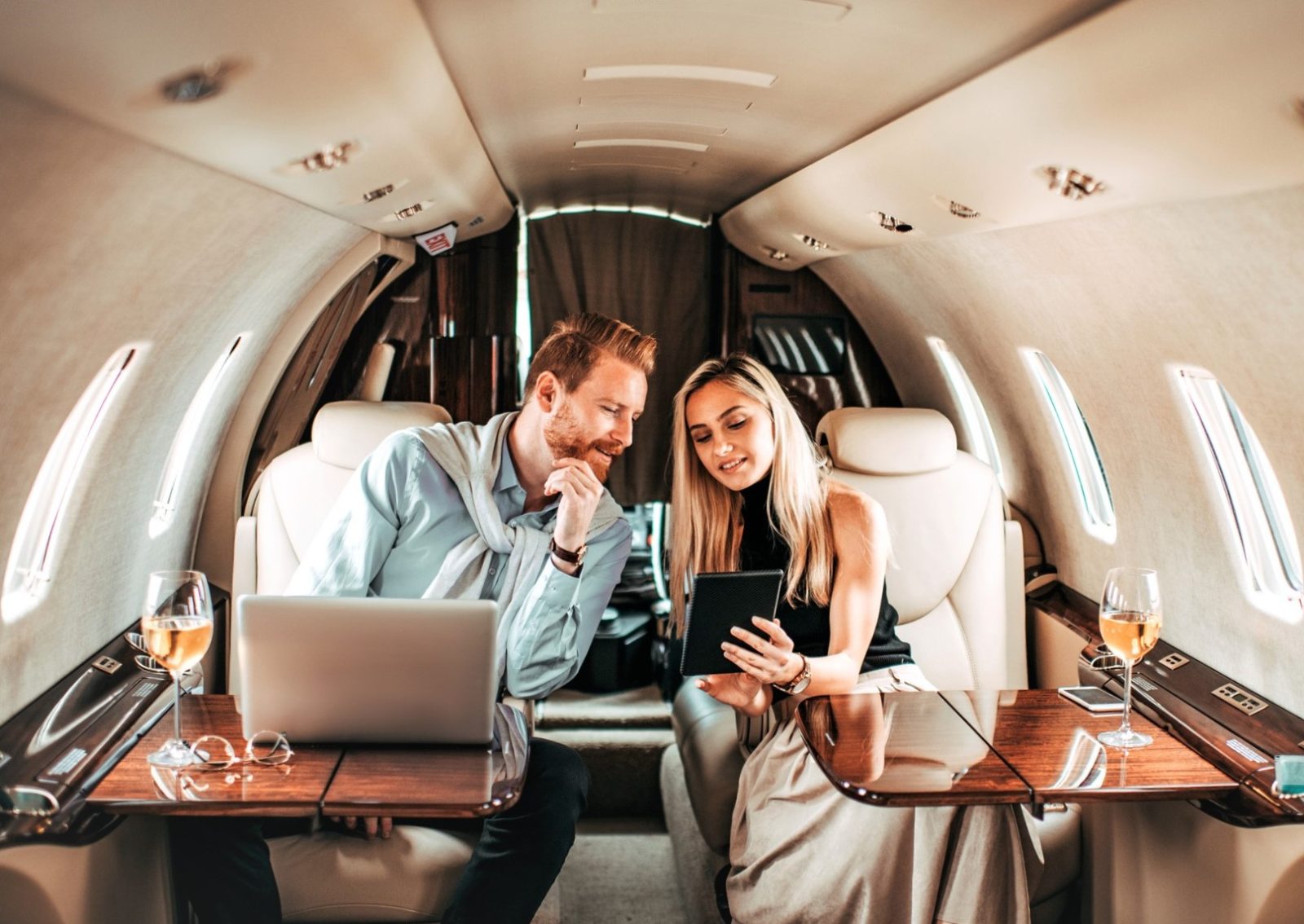 With so much advancement in the last decade, here are some of the new things we expect to see in the business aviation industry for 2020.
The shift towards discreet wealth, health and wellness
Private jet travellers and high net-worth individuals are taking a new direction in the upcoming decade. Showing off wealth is no longer the way to signify it. Instead, discreet investment in health and wellness is becoming a new luxury status symbol. In private jet travel, this trend can be seen in the food that is ordered. Now customers prefer simple and healthy options with reduced alcohol consumption as opposed to extravagant excesses.
Chartering a jet allows the wealthy to fly anonymously, protecting their privacy, and Private Jet Charter®️ takes great care of your privacy at all times.
Environmental impact 
The past decade has seen a desire to take our carbon footprint seriously. From Greta Thunberg standing up for global warming, to the disastrous worldwide forest fires across Africa, California, Brazil, Russia and those that are still roaring on in Australia. This is something that is definitely going to have a continued impact on not just the aviation industry but all industries.
When it comes to natural disasters or catastrophes, private aviation can fly quickly, when and where required, evacuating people and providing desperately needed medical and food supplies.
Green leadership
Who to set the tone for business aviation trends if not The National Business Aviation Association which will host a Global Sustainability Summit in March 2020 to address environmental issues and create industry solutions. Innovation in tools and services is expected to help aviation companies to measure their carbon footprint and support their sustainability needs.
On a bigger scale, a global carbon offsetting scheme known as CORSIA aims to ensure carbon-neutral growth on international flights from 2020 and raise about 40 billion US dollars in climate financing.
AI in Aviation  
One of the biggest trends in every industry comes from technology. An increasing number of airlines are investing in AI to get insights into technical elements of flights, maintenance and repair, as well as to anticipate the needs of everchanging customer needs.
Focus on customer experience
The aviation industry is no exception to a customer being at the forefront of the service provided. Data that is available, (thanks to advanced technology), is helping us make informed decisions on our customers needs to provide a seamless experience in 2020.
Efficiency and flexibility of private flights allow small and medium companies to understand the value of using private aircraft to favour their business. With the capability to land in remote places and cost-efficient aircraft, flying privately can save time and money compared to commercial flights that need one or two connections to get to the destination.
New aircraft
We are sure to see significant improvements and changes in private jets themselves throughout this decade, with the likes of Gulfstream recently unveiling their newest jet – the G700, with the first planned flight in spring/summer of 2020 and a full-service G700 expected to follow in 2022. We expect new private jets to follow a clean, streamlined design throughout the next few years. Who doesn't like a sleek plane anyway?
Following business aviation trends, at Private Jet Charter®️, we have found the ideal balance between modern technologies/luxuries and good old-fashioned values, enabling us to provide a private travel experience like no other. Get an instant quote or call us today: +44 208 897 8979