Whether you're a band manager looking for a reliable group charter service, or a business executive wanting to maximise your team's productivity, chartering a private jet has countless benefits that you can't ignore! However, we know that time is money so we will keep this short and sweet with the top 4 reasons why your time and money are used better when you fly private and not commercial.
Save time
Increase productivity by 150%
Be in charge of your own schedule
Highest level of comfort and luxury
Time
Time is money. Chartering a private jet lets you skip the lines at airports; there will be no need to show up 2/3 hours before a flight. You'll be taken to an executive terminal to pass through a quick security check, and then you board your flight promptly. It's fairly obvious that when you fly private you don't have to wait around while everyone else boards/leaves the plane, saving you an hour or more in itself alone. But what might be slightly less obvious is the time spent in the air, flying private usually guarantees a shorter flight time due to the jet size and weight onboard.
Productivity
Private charter is a productivity tool used by thousands of companies in every industry. Thanks to the absence of connecting flights, layovers, or airport queues, chartering a private jet increases you and your team's productivity, compared to commercial flying. Not only will they save time and physical strain, but by flying private you get a private office in the skies – recreating the perfect conditions for silence and concentration when it is needed most. Choose to unplug and keep your phone on aeroplane mode or stay connected with our complimentary WiFi.
Flexibility
The best thing about flying private is that you get to make your own schedule and itinerary. Take-off and landing times can be rescheduled at short notice to suit unexpected longer meetings or a concert that's run over schedule. You can literally fly whenever, wherever, on whatever jet you desire when you fly with Private Jet Charter ®️.
You can even take advantage of our flexible empty leg flights that can help you save up to 75% on the cost of chartering a private jet.
Level of Service
Chartering a private jet is a step above first class, simply because of the service provided with it. From our multilingual staff, experienced pilots, excellent catering, and a technologically advanced fleet, you can expect the highest level of comfort and luxury when you fly Private Jet Charter.
We could go on and on… there really are countless benefits to chartering a private jet. If you are a frequent traveller, it's time to ask yourself, are you using your flight time productively?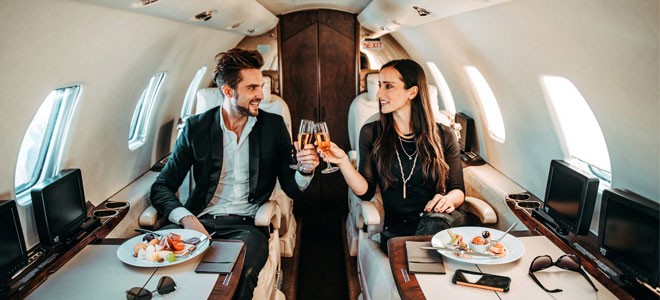 Are you a frequent traveller for business, pleasure, or both? Why not experience the benefits of being a Private Jet Charter ®️ JetSet20 member? It's like owning your own fleet of private jets – ready to go as and when you want.