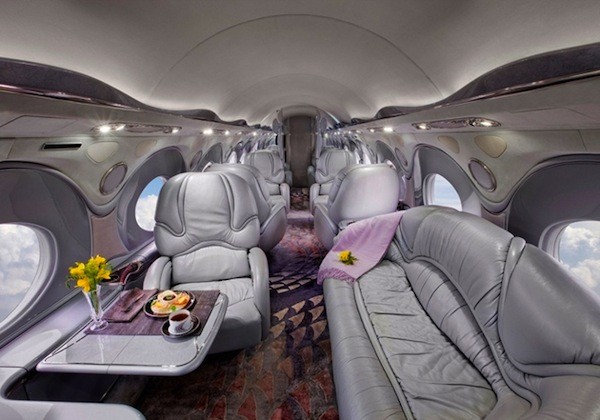 Flying from place to place can be stressful and tiresome, but private and chartered jets are able to change the experience to one of pure delight. High-speed Internet, lavish furnishings and aesthetically pleasing designs are opening up the field of customized interiors. And this may be just the thing for those whose lifestyle requires plenty of time in the air. Inside these amazing luxury jets, comfort is never sacrificed and every detail is painstakingly considered.
15. Nick Gleis: Cockpit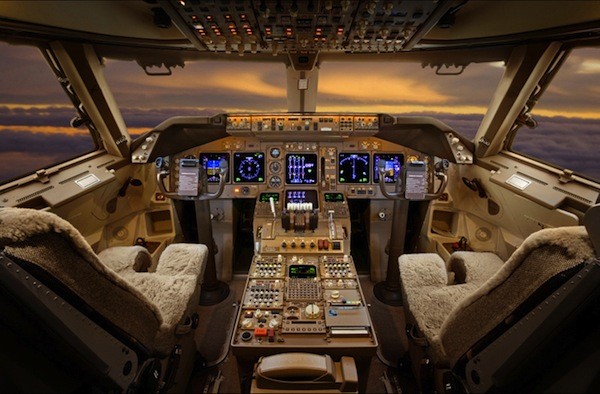 Even the pilots in this jet get to fly in plush surroundings. Nick Gleis, the professional photographer who captured the stunning interior of this cockpit, has snapped more than 800 private jets in a career spanning three decades. As most of the owners of these aircraft wish to remain anonymous, around 90 percent of Gleis' work never enters the public arena. Instead, his photographs are viewed in private, albeit by a wide range of people, from designers to heads of state.
14. Nick Gleis: Space Age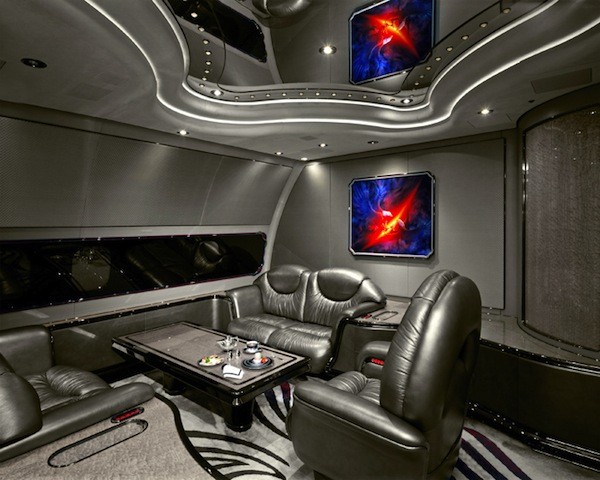 The platinum tones in this aircraft bring to mind the sleek exteriors of expensive cars, while the mirrored ceiling makes the room appear both lofty and spacious. This decor is a prime example of just how much potential there is to make private jets fabulous. Due to Federal Aviation Administration regulations, there are some limitations on which materials can be used, so aircraft completion companies work with clients to make unfurnished interiors one-of-a-kind. Meghan Welch, an interior designer at Elliot Aviation, says that many clients want interiors that are both long-lasting and have resale value. Still, even with these stipulations in mind, the options are plentiful.
13. Nick Gleis: Curving Couches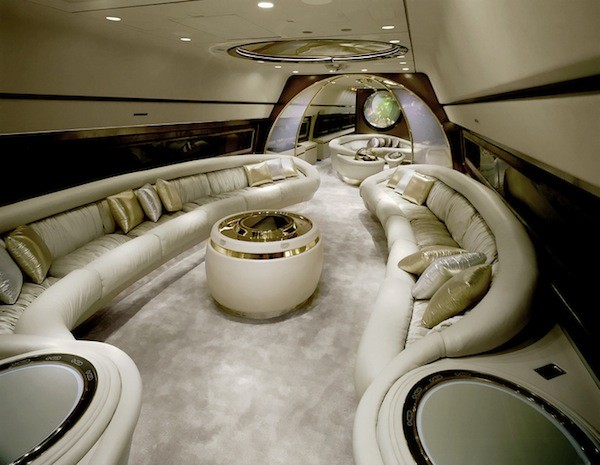 Muted tones, aesthetically pleasing curves and translucent partitions make this jet interior exquisite. To create an image like this, Gleis says that being able to capture the nature of the aircraft and good lighting are both key. He prides himself on his ability to show off the distinctive feel of each unique plane. And he has taken photos for companies like Boeing and Lear, as well as for heads of state and royal families worldwide, including those of Saudi Arabia, Cameroon and Uzbekistan.
12. AERIA Luxury Interior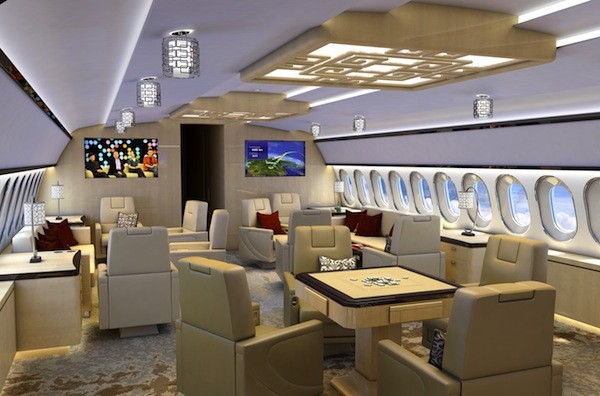 This deluxe interior is the product of AERIA, a completion center capable of doing everything from the preliminary consultation to cabin design, engineering, construction, assembly, and in-air tests. Miles Johnson of the Financial Times reports that designs for luxury jets have included cinemas, Turkish baths made from especially thin marble, aquariums, and even garages. Howard Guy, from UK-based consultancy company Design Q, also reveals that the potential for creative interiors is as far-reaching as the imagination, limited only by physics. What's more, even these boundaries, says Guy, are being pushed.
11. Nick Gleis: Conference Table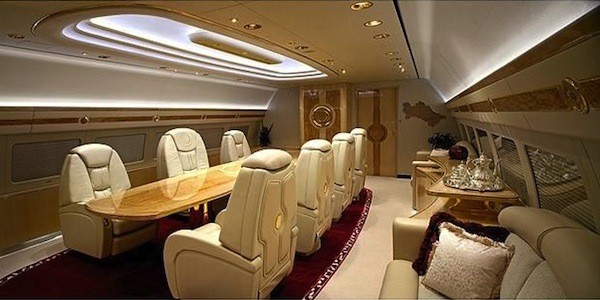 Although comfort and style are both key features of luxury jets, so too is functionality. Wi-Fi, desks, laptop plugs and conference rooms may all be essential tools for those wanting to carry on business as usual at altitudes of 40,000 feet. Kirby Harrison of Barron's reports that aviation broadband specialist Aircell offers a system called Gogo Biz, giving jet owners the option of having high-speed Internet access while they wing from place to place.
10. Nick Gleis: Angel Doors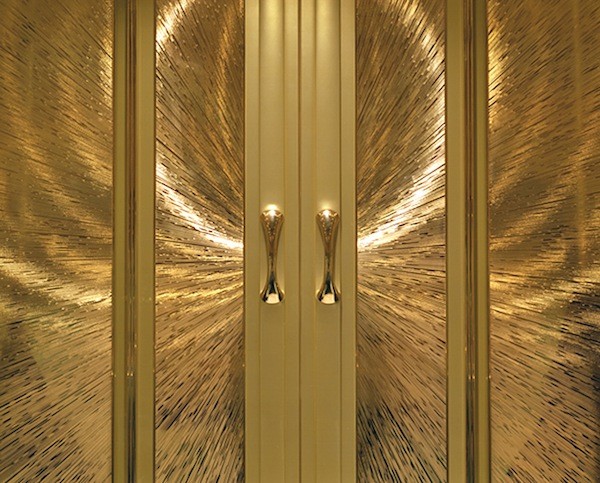 The real joy of these carefully crafted designs is in the details – like these stunning doors. Nick Gleis told Wired that setting up his photographs to achieve perfect lighting – such as the angel wing gleam, pictured above – can require hours of work. His standard 10 to 12 photos per shoot can take up to eight hours to complete. "Designers go to great lengths to add fine details that sometimes become lost in overall room photos," says Gleis. He goes out of his way to make sure such elements get proper attention in his pictures.
9. Jackie Chan Jet Interior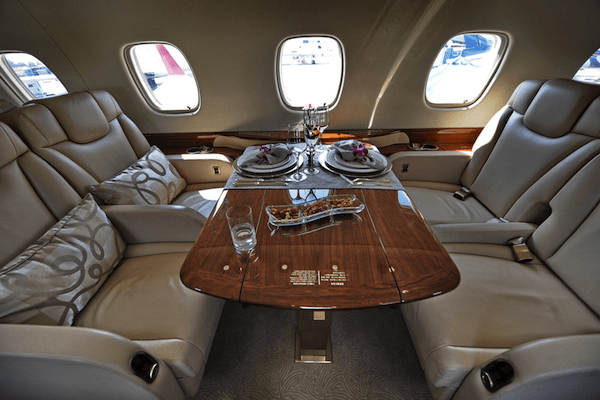 Hong Kong's star of the screen Jackie Chan owns an Embraer Legacy 650, pictured above. The jet, emblazoned on the outside with Chan's name and intertwining dragons, is distinctive, luxurious, and tranquil. The muted tones, gleaming wood and comfortable seats are seamlessly integrated and visually appealing. And with room for 14 people and a flying time of seven hours, the Legacy is a quality vehicle to boot.
8. Nick Gleis: Bathroom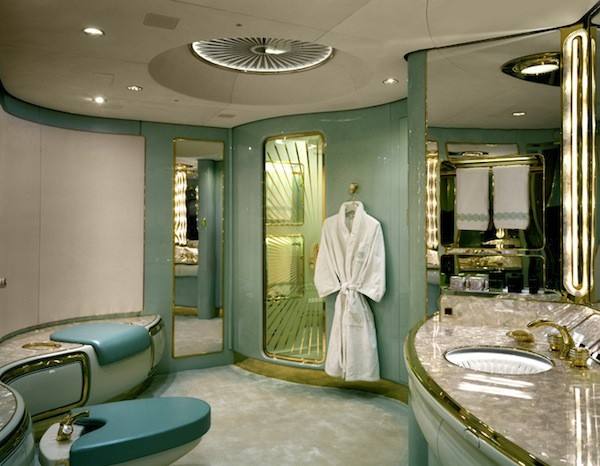 Even the bathrooms on these opulent aircraft are gracefully designed – the surfaces creating multi-faceted reflections and a fascinating interplay of light. Still, there is always room for innovation.
One owner of a Boeing 787-8i requested that the walls be made of living ferns. With a complicated arrangement of mirrors affording sunlight, and a special irrigation system that protects against turbulence to water the plants, the aircraft is a garden in the sky.
7. Prince Al-Waleed Jet Interior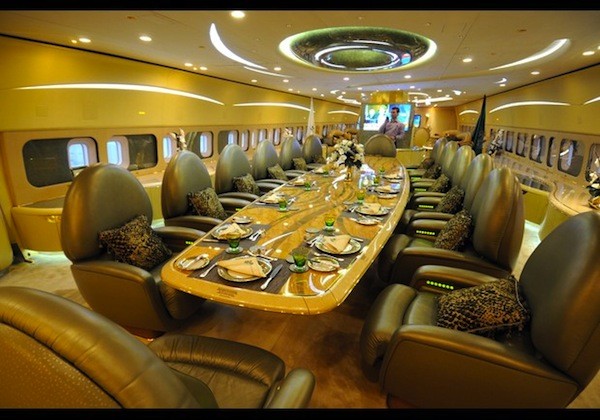 This palatial dining room is in keeping with the rest of Saudi Prince Al-Waleed bin Talal's "flying palace." Al-Waleed made history when he purchased the world's largest commercial airplane, the Airbus double-decker A380. It cost around $300 million, with the customized interior adding approximately another $200 million to the price tag. Providing room for 800 passengers, it's a true behemoth. And its size heightens the potential for luxury amenities, which, according to a December 2012 report, will include a concert hall complete with a grand piano, a wellbeing room, parking room for a Rolls-Royce, and a Hamam steam room.
6. Nick Gleis: Red Room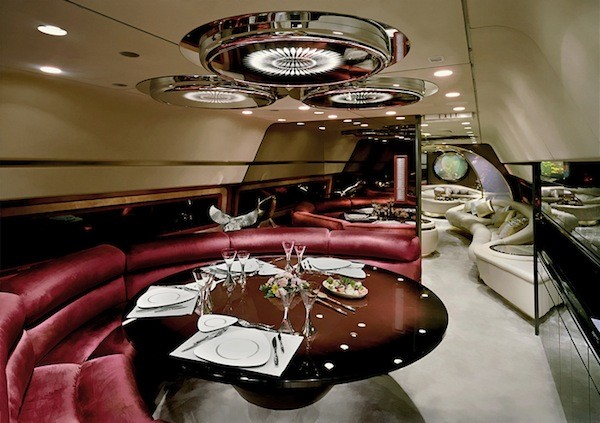 Although Al-Waleed's aircraft is a hard act to follow, many luxury interiors contain similarly lavish elements. Barron's reports that one owner of a Boeing 777 wanted passengers to be able to view his collection of classic cars, so a see-through floor provided a bird's eye view of the aircraft's cargo bay. Others have thrones and prayer mats that automatically point towards Mecca. Since most owners of private jets don't want images of what they own plastered all over the Internet (understandably), relatively few photos are available for public viewing.
5. Nick Gleis: Bathroom sink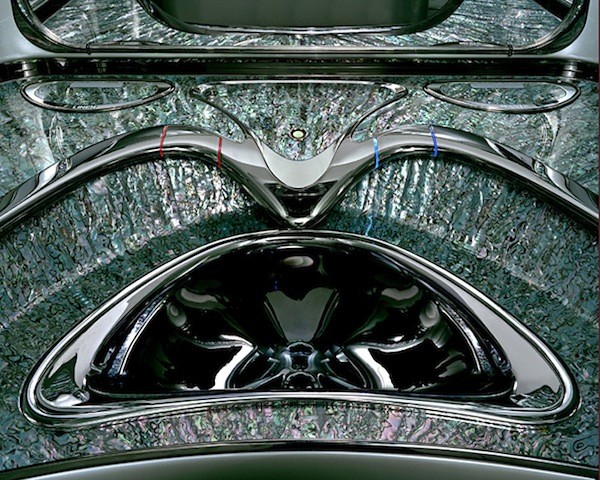 Gleis, who photographed the elaborate sink above, is always mindful of the confidentiality of his clients. According to his biography, he has delivered over 10,000 security-sensitive images. While some criticize this approach, claiming the anonymity could cover up the use of blood money or other human rights controversies, Bijan Khezri, managing director at TAG Aircraft Interiors, adds that it makes sense that owners don't want to disclose their identities. "It is a very private market," he says, "People don't like to go screaming from the top of the roofs about what they have."
4. Nick Gleis: Kitchen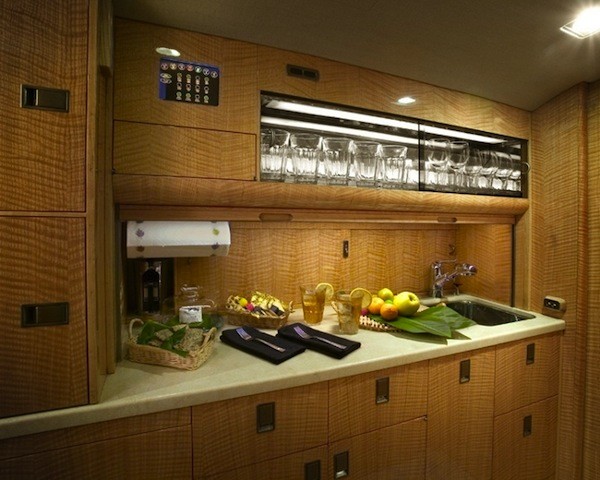 No high-class jet would be complete without the option of indulging in some gourmet cuisine. This sleek and elegant kitchenette is perfect for rustling up a delicious snack or a glass of something naughty! Capturing just what it feels like to stand inside the aircraft is a true challenge for Gleis, and it means taking a lot of equipment with him to photo shoots. In an interview with Business Jet Interiors International, Gleis said that before the digital age he had to carry up to 30 cases of equipment with him – quite a logistical headache – but now he usually only needs three or four. The end result of Gleis' magic is an unparalleled image of an unparalleled space.
3. Donald Trump Jet Interior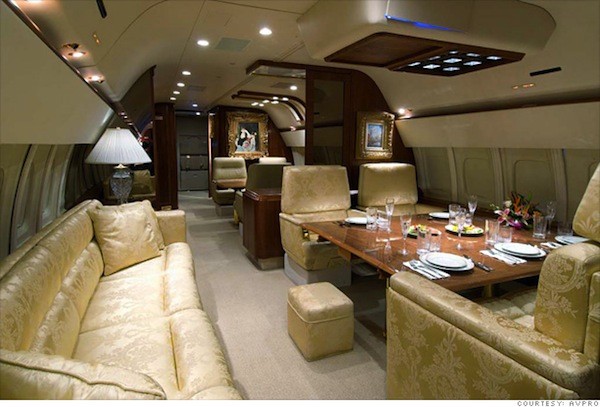 The tasteful lines and contrasting wood in this shot belong to the interior of Donald Trump's jet. The Boeing 757 aircraft cost around $100 million and comes complete with 18 IMAX-level speakers for the cinema room as well as gold seat buckles and faucets. Trump bought the plane from Microsoft mogul Paul Allen in 2010, and he had it refurbished to fit his particular tastes. For good measure, he has his name emblazoned on the outside.
2. Nick Gleis: Turquoise Grey Room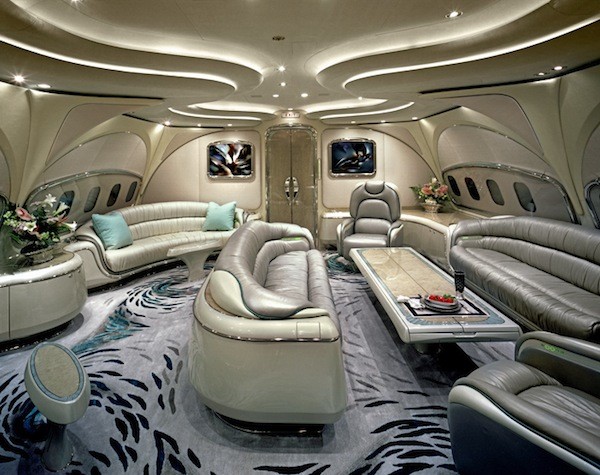 Although a fair number of completion centers have their own design teams – and use special computer programs such as EnVision to create interior mockups, including color and texture – other designers have had their shot at jet interiors as well. CNBC reports that Lufthansa Technik, BMW and Edése Doret have all taken on roles creating elements such as lighting units and control panels. Meanwhile, fashion labels such as Hermès and Versace have decked out jets and helicopters in their own creative style.
1. Nick Gleis: Brown Room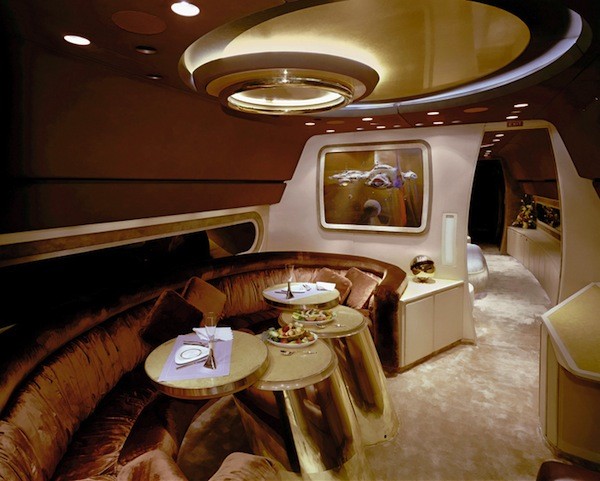 While on the one hand there seem to be endless possibilities when it comes to the design and components of luxury jets, weight and safety are unavoidable factors. Stringent regulations may mean certain materials are out of the picture, while too many heavy furnishings can affect fuel efficiency. Yet in any case, this is certainly an exciting market, and it's one that appears to be growing. Taking to the air is moving from the humdrum of routine to elegant and cool – and the sky's the limit!