The luxurious Fontainebleau is renowned as the jewel of Miami's ocean front. Situated on the cusp of the Atlantic Ocean, The hotel is an awe inspiring architectural marvel.
Located just 12 miles from Miami International Airport and 28 miles from Fort Lauderdale, Fontainebleau is home to 1,504 luxurious guest rooms. It offers guests a range of rooms, from deluxe guest rooms and three bedroom suites, to magnificent penthouses. This stunning contemporary designed hotel provides guests with an array of delights ranging from an award winning selection of restaurants and world class night clubs to ultra-modern conference and event conveniences. Whether you choose to dine, shop, visit the spa or meet for an important business conference, the hotel caters to all of your whims.
So without further ado, Private Jet Charter are pleased to introduce to you, the magnificent brilliance you will encounter at the resort.
The Fontainebleau By Day…
Relax by Swimming Pools and Luxury Cabanas 
Guests can sunbathe in sheer bliss with a number of different pools to choose from (including children's pools). The stunning pool-scape design includes "walls of water" which are fused with a free-form style pool.
Feeling Peckish? Why not have a bite to eat at La Cote?
Described as Miami's best dining spot by "The Miami New Times", the magnificent La Cote is renowned for its sumptuous French cuisine and glistening views of the ocean. It's the perfect place to unwind with a glass of wine and watch the sun go down.
Guests are also able to relax in style in the hotels luxurious and exclusive cabanas found around the pool side. Each of them comes with bespoke service, WI-FI, a 32-inch flat screen television and waiting service.
The Lapis Spa
"It's the most beautiful spa in America" – Martha Stewart 
Immerse yourself in well-being and relaxation at Fontainebleau's Lapis Spa: a fabulous escape that welcomes you into an oasis of beauty and energy for mind, spirit and  body. The main attraction of the Lapis Spa is that the facility overlooks the Atlantic Ocean, enhancing your experience all together. The Lapis Spa offers a range of relaxing treatments and classes from their experienced and professional staff. After a few hours in the spa, you will leave feeling revitalized and relaxed. Guests can also take advantage to the 5,800 square foot state of the art Gym facility which looks out and over the stunning outside pool area as well as the Atlantic Ocean.
 The Fontainebleau By Night…
Your Exquisite Dining Experience Awaits
After a fabulous day of sunning yourself by the pool and pampering yourself in the spa it's time to see what the resort can really offer. With 12 restaurants, lounges and bars available for guests to choose from, there is no deficiency of selection when it comes to the luxury dining possibilities. The hotel truly does spoil its guests with choice in terms of fine dining experiences. All 3 of Fontainebleau's signature restaurants are AAA Four Diamond awarded.
Gotham Steak
During your stay an evening dining at the succulent Gotham Steak restaurant is an absolute must. This stunning venue is the perfect setting in which guests can savour the tastes that their Michelin Star chef Alfred Portal has prepared.
Hakkasan
The fabulous Hakkasan provides its diners with an authentic Cantonese menu and offers a broad selection of wine and sake. Hakkasan is a beautifully designed space, with a seductively tranquil ambiance. The Hakkasan restaurant is situated on the fourth floor rooftop of the hotel.
Blade
Or perhaps you would care to visit the Blade Restaurant where you will find a scrumptious sushi menu, which features dishes of fresh fish, vegetables and tempura. Blade has won the Open Table Award and is a Diners' Choice Winner. It is renowned as a melting pot for delicious food. A total must during your stay!
Michael Mina 74
Chef Mina has created a chic and sophisticated infusion of an American styled bistro/ bar and ultra-lounge. Serving guests a variety of deliciously dynamic global flavours and perfectly created cocktails , this fun and energetic restaurant bar will have you lusting for more.

Scarpetta
Scarpetta is an Italian styled restaurant with a few little quirks. Chef Scott Conant delivers this typical New York style Italian restaurant to the heart of Miami.  Chef Scott Conant is rewnowned for his unconventional but sensational menu, providing guests with inspiring flavours which convey the excellence of his locally sourced food. With spectacular vistas thanks to the restaurants floor to ceiling windows, the atmosphere within Scarpetta is truly magnificent.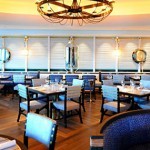 LIV Night Club
The fantastic Fontainebleau really comes into its own at night. Renowned as a cool and trend setting scene, the hotel has it's very own night club which attracts VIPs, and Miami's elite party crowd in its abundances (you may even spot a celebrity or 2). LIV is 18,000 square feet of pure lavish fun. Its enormity is a spectacle in itself and so is its fantastic design! Guests who fancy an extra bit of VIP treatment can have their very own sky box with European bottle service.
The Bleau Bar
If you simply would like to finish off your evening with a nice glass of wine or cocktail then venture down to The Bleau Bar, the perfect venue for a relaxing night cap. Playing cool house beats and mixing up fresh and juicy cocktails, the famous Bleau Bar was in fact the set for Gold Finger, where the scene during which James Bond played a game of gin rummy was filmed.
After a fabulous evening of eating 5 star meals, sipping on sensational cocktails and dancing the night away, you'll be just about ready to slip into something more comfortable and to get back to your beautifully comfortable guest room for a good nights sleep.
At Fontainebleau, the possibilities available to guests are striking, exciting and endless. The hotel is truly is a Resort after Private Jet Charter's heart.
For bookings and more information, visit: http://www.fontainebleau.com/