Empty Leg Flights Las Vegas
For the maximum private jet flights savings, you can click on the button below to check if there are any empty leg flights available in your preferred location.
You can get up to 75% off the original price when booking an empty leg flight to or from Vegas.
GET A QUOTE FOR AN EMPTY LEG FLIGHT
Las Vegas Overview
Las Vegas is our most popular privet jet destination in the United States. It attracts some of the world's wealthiest visitors.
And there is a good reason for that – Las Vegas is the Entertainment Capital of the World, where dreams come true.
Las Vegas is a paradise for those looking to escape the beat of everyday life and indulge in the finer things of life with world-class resorts, casinos, liquor, and entertainment.
What to Do in Las Vegas
Every year, thousands of people fly to Las Vegas with Private Jet Charter.
Known as the "Disney World" for adults there is plenty to do for everyone. From gambling, entertainment, museums, and nature – Las Vegas is a place where different countries are packed into one town. You can see Venice and its Gondolas, the Eiffel Tower, the Statue of Liberty, Saint Mark's Square, or even a slice of Egypt at the Luxor hotel.
Some must-see museums and galleries include the Bellagio casino's own Gallery of Fine Art, Las Vegas Natural History Museum, Madame Tussauds Las Vegas, Martin Lawrence Galleries, and M&M's World.
Grand Canyon is located 250 miles from the Las Vegas strip.
Where to Stay in Las Vegas
There are many amazing resorts and hotels you can stay in Las Vegas. From iconic Bellagio to breathtaking Caesars Palace and world-famous Treasure Island – Vegas is a fascinating place.
Bellagio Hotel Las Vegas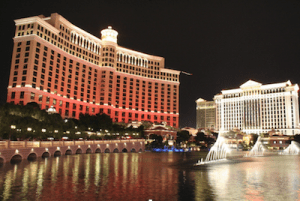 Bellagio is the most iconic luxury resort in Las Vegas known for its Italian classic architecture.
The hotel and rooms are richly decorated and equipped with satellite TV, minibar, and marble bath.
In Bellagio you can relax in the spa, pools, botanical gardens, visit art galleries and enjoy the famous fountain show and performances by the Cirque du Soleil.
Dining options include French and Spanish menus in the Picasso restaurant, Japanese food from the Yellowtail, and many, many more on the Strip.
Caesars Palace Las Vegas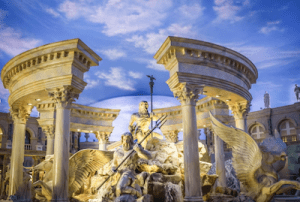 Caesars Palace is another magnificent luxury casino and hotel on the Las Vegas Strip. The Roman-themed resort was built in the 60s and it presents spectacular rooms, service, and entertainment. From the moment you walk through the doors of Caesars Palace, you'll understand why it is Las Vegas's largest and best-known landmarks.
Treasure Island Las Vegas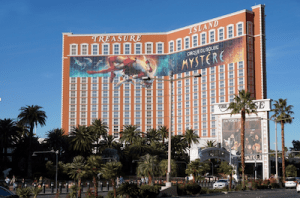 Treasure Island is a hotel and casino that hosts Cirque du Soleil's Mystère, one of the most successful acrobatic shows in Las Vegas.
Whether you're playing to win or for fun, there is something for everyone: roulette, blackjack, slot machines, etc.