The BMW Vision Next 100 is BMW's vision of the future of cars is going to look like… and we hope they're right!
The new features resemble the car Will Smith drove in iRobot, with less of the 'robot out to kill you' vibe. From new digital intelligence to emission-free energy, you want to see what the talk is all about!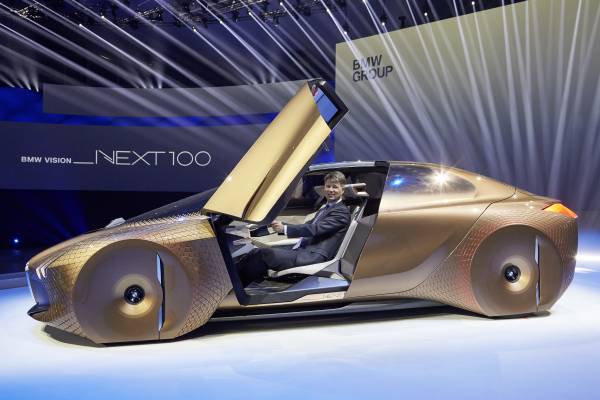 Some of our favourite features:
Completely gold – you can't see in the windows except through the front windscreen!
Level 4 Autonomy – can drive on its own (watch the steering wheel disappear!)
Safety features – BMW introduced a new feature that will change colours to alert others on the road that the car is driving itself.
And our favourite of all: Alive Geometry
"Alive Geometry- is a mosaic of 800 sensor-activated triangles that form a dynamic analogue display, spanning the entire surface of the dashboard. These triangles move and turn red in response to other road users or objects in the vehicle's vicinity, generating dynamic patterns, alerting you to potential dangers ahead.

This revolutionary form of preconscious communication all takes place on the dashboard in your peripheral vision, which means Alive Geometry does not deflect attention from your field of primary vision – the road ahead." –BMW
Other features include lounge-like bucket seats, reflective glass for increased privacy, and exceptionally low drag od 0.18wC thanks to the design.
Supercar Blondie did a walkthrough of the BMW Vision 100… please excuse our drool.
We're sure this isn't all BMW is going to surprise us with in the next 100 years, but boy are we looking forward to it. What about you?